our 37th Annual General Meeting, (a Zoom webinar) on Tuesday Feb 08th 2022 @ 18:30hrs —
Recording Link: CEIA 37th AGM – Tues Feb 8th 2022
Our Executive Guest Speaker for the evening is: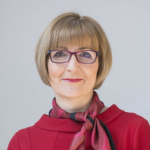 Professor Maggie Cusack FRSE
President of Munster Technological University (MTU)
Prof. Cusack did her BSc degree in Cell Biology at the University of Glasgow. Her PhD at the University of Liverpool was a Tate & Lyle CASE award. Protein research then brought her to Geosciences at the University of Glasgow. As a Royal Society University Research Fellow, Prof. Cusack collaborated with Sir Alwyn Williams for many years, establishing her enthusiasm for biominerals. As well as research and teaching commitments at the University of Glasgow she held several leadership roles including Associate Dean for the Faculty of Physical Sciences Graduate School, International Lead for the College of Science & Engineering and Head of School of Geographical & Earth Sciences.
As Professor of Biomineralisation, Prof. Cusack's research interests are broad and multi-disciplinary. She is a long-standing advocate of multidisciplinary work, collaborating with Earth and Biological Scientists, Materials Scientists, Isotope Geochemists, Chemists and Engineers, securing international funding as well as funding from four UK research councils: BBSRC, EPSRC, NERC and MRC.
In 2017 Prof. Cusack joined the University of Stirling as Dean of the Faculty of Natural Sciences. In 2018, she completed the Senior Executive Programme of the London Business School. She holds several external roles including being a member of the Scottish Government STEM Strategy Advisory Group, Chair of the Learned Societies Group (LSG), member of the Royal Society Partnership Grants Committee and the Carnegie Trust PhD committee. She recently completed a 3-year term as Vice-President (Physical Sciences) of the Royal Society of Edinburgh and is the interdisciplinary advisor of REF sub-panel B7 (Earth Systems and Environmental Science) in criteria-setting and assessment phases.
Prof. Cusack was awarded the Saltire Society's Scottish Science Award in 2008, elected Fellow of the Royal Society of Edinburgh in 2011 and in 2017, was awarded the Schlumberger Medal by the Mineralogical Society.
On 1st January 2021, as Munster Technology University was founded, Prof. Cusack took up the role of Inaugural President of MTU.
Please review your diary and if you can, add this event as a must attend.