We are pleased to have Roy O'Driscoll and Brian Gallagher, key decision makers from Cork Airport's senior management team as our guest speakers.

Roy O'Driscoll, Acting Managing Director, Head of Finance, Property and IT

Brian Gallagher – Head of Aviation & Commercial Business Development
Cork Airport is the international gateway to the South of Ireland and is uniquely positioned at the start of Ireland's Ancient East and the Wild Atlantic Way. It is the country's second busiest and best-connected international airport flying to destinations across the UK and Continental Europe. Cork Airport's customer service has won national and international awards as voted by passengers and industry peers. 2019 saw Cork Airport record a fourth consecutive year of growth, with passenger numbers growing by 8% to 2.6 million with several new routes added to it's expanding route network. In June 2019 it was named Best Airport in Europe serving under five million at the 29th ACI EUROPE Annual Assembly & Congress Best Airport Awards for the second time, having also won its category in 2017. The Awards recognise excellence and achievement across a variety of airport disciplines relating to airport operations.
However during the pandemic Cork Airport saw passenger numbers plummet 90% and was losing millions in revenue. In 2022 they are in the process of sustaining and rebuilding the business. The return on supports to aviation are significant, given the economic impact of aviation in creating and sustaining jobs throughout our supply chain, tourism, hospitality, and industry. Niall McCarthy, Managing Director of the airport made the comment "We will be living with this pandemic in some form for the next two years at least. In the meantime, we have to learn to co-exist with the virus and keep people in employment whilst staying safe"
Roy and Brian will discuss the history of Cork Airport, its Traffic Recovery & 2022 passenger forecast, the Longer Term Network Recovery, Capital Projects and 5-year Strategy.
Roy, has a Bachelor of Commerce from UCC & is a qualified Chartered Accountant and prior to joining Cork Airport worked for Eir, Dublin, in various finance roles across the Eir group most recently as Finance Director for IT & Networks. Brian has Bachelor of Civil Engineering B.Eng. from NUIG and prior to joining Cork Airport worked for, Apple & Dublin Airport Authority, now daa PLC
Registration is required to attend this webinar, please click the link below to register:
After registering, you will receive a confirmation email containing information about joining the webinar.
Host for this business webinar will be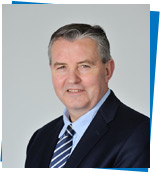 Sean Sheehan, CEIA Chairman & CEO Wisetek

We hope you can attend this very interesting and significant business webinar, please click the link above to register.