CEIA Bo01ean Internet Roadshow & Bo01ean Logic Role-Playing Game

To commemorate the bicentenary of the birth of George Boole in 1815, CEIA are running a Boolean Roadshow to highlight the genius of George Boole. The roadshow consists of a short history about George Boole and University College Cork, and a Bo01ean Logic Role-Playing Game suitable for 8-14 year olds.
Students from Gaelscoil Mhuscrai in Blarney, Co. Cork, playing the Bo01ean Logic Role-Playing Game

Students from Gaelscoil Mhuscrai in Blarney, Co. Cork, playing the Bo01ean Logic Role-Playing Game
The impact George Boole has had – and is still having – on the modern world we live in, is nearly impossible to overestimate. If you look around you nowadays, you will see everybody from primary school children to senior citizens using smart phones. All of these are based on Boolean logic which was invented by George Boole during his tenure as the first Professor of Mathematics at UCC.
Boolean logic is based upon possibly one of the simplest concepts we will come across – it has only 2 possible states: for example 1 / 0, True / False, High / Low, and ON / OFF to name just a few. It is amazing that such a simple concept is the basis for every single computer, laptop, tablet, smartphone and even robot on the planet!
Since the advent of microelectronics in the 1940's, all these devices (and more) have utilised Boolean logic to function. By being able to switch between the 1 and 0 states really fast (modern processors can perform many billions of switches per second) computers are able to perform tasks almost instaneously.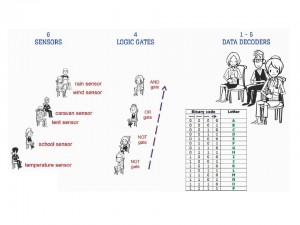 CEIA have devised the Bo01ean Logic Role-Playing game to demonstrate the simplicity of Boolean logic', how it can be used to represent information, transfer information in code and make decisions.
In the game students become sensors, logic gates or data decoders, to decode a weather scene to find a coded letter. After finding all the letters the team re-arranges the letters to find a word.
The game is available to download from the links below.
Please read all of the documents in the links below. As the game was originally published on a USB, sometimes folders and sub-folders have been transferred to links.
If you still have questions about the game, how it works etc., please send an email to Eamon Connolly at connollye@ceia.ie
Find out how to play and download game materials by clicking on the links below.
1 – Watch: Introduction – George Boole
2 – Watch: VIDEO: HOW TO PLAY the CEIA.ie Bo01ean Logic Role-Playing game
4 – Bo01ean Game Cards – give to students
6 – Bo01ean LETTERS – use to make more word-games
George Boole and Robotics – Article