Our June 2019 business briefing takes place at Tyndall National Institute, Dyke Parade, Cork on Tuesday June 25th starting at 6.15pm (sharp)

Tyndall is a leading European research centre, specialising in ICT hardware and systems research in both electronics and photonics – materials, devices, circuits and system. The institute employs 500 researchers, engineers and support staff, including 120 full-time graduate students. They are global leaders in the core research areas of: Smart sensors and systems, Optical communication systems, Mixed signal and analog circuit design, Microelectronic and photonic integration, Semiconductor wafer fabrication, Nano materials and device processing
Tyndall works with industry and academia to transform research into products in their core market areas of electronics, communications, energy, health, agri-food and the environment, With a network of over 200 industry partners and customers worldwide, they are focused on delivering real impact from excellent research. Their five-year strategic plan sets out a clear strategy to create employment and build critical mass within the Irish technology space. Since the launch of Horizon 2020 in 2014, they have participated in 56 projects with total value of €370m, including significant co-funding by industry partners.
The investment in Tyndall activities within the projects is valued at €29m, with an additional €20m in funding going to our Irish partners, including €12m to industry which supports over 50 jobs during the projects' lifetime. Tyndall are the lead institute for the Irish Photonics Integration Centre (IPIC) and European Space Agency (ESA) Space Solutions Centre Ireland.
They host industry aligned research centres; Microelectronic Circuits Centre Ireland (MCCI); International Energy Research Centre (IERC); and the Centre for Future Networks and Communications (CONNECT). During 2017 two new SFI research centres were funded, that will involve Tyndall collaborating with other Higher Education Institutions and Industry; the CONFIRM Centre for Smart Manufacturing and the recently launched VistaMilk for precision pasture-based dairying
The CEIA is delighted to have Tyndall's new CEO, Prof. William Scanlon address members, sharing his vision for future growth of the Institute and its engagement with industry: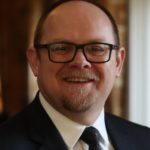 Prof. William Scanlon, CEO, Tyndall National Institute
Prof. William G Scanlon is acknowledged globally as a pioneer in wearables and medical device communications, a technology entrepreneur and an accomplished academic in the area of wireless innovation and communications. Prof. Scanlon joined Tyndall from Queen's University Belfast, where he was most recently Head of School of Electronics, Electrical Engineering & Computer Science, and Chair of Wireless Communications for over a decade. He has also held a number of commercial roles, including co-founder and Managing Director of ActivWireless, a spin-out company that focused on real time location systems, as well as engineering roles with Siemens, Nortel Networks and Osram. With over 30 years combined experience in industry and academia, Prof. Scanlon has an impressive background in strategic research management and particularly in the commercialisation of research. Connected health, mobile networks, localisation and wireless body area networks have been key areas of Scanlon's experience and research publications. His internationally-leading research expertise spans RF and microwaves, antennas and propagation, mobile communications, sensors and wearables.
We would like to thank Prof. William Scanlon and his team in Tyndall National Institute for hosting this event.
After the presentations, there will be a networking opportunity with light refreshments served.
Please Email info@ceia.ie to register for this event