Our May 2018 Business Briefing is to be held at
DELL/EMC, Ovens Campus on Monday May28th starting at 6.15pm (sharp)
It is planned to provide an insight into how local and national bodies are planning to address the challenges our members experience regarding business enablement and growth in the Cork area, particularly in our business sectors and we are delighted to have Ray O'Connor from the IDA and Seamus Coghlan from the Economic Development Group, Cork City Council address us.
We recently had the pleasure of hearing from Minister Coveney who outlined a vision to develop Cork City into a genuine National Second City for the country and based on this we wish to hear of the plans which will enable this vision under the headings of;
Business Enablement – Housing Availability – Public Transport Development (Rail , Air , Road , Traffic) – IT Connectivity – Attracting & Retaining Talent (Lifestyle/Quality of life) – Environmental Impact – Attracting Investment – Foreign and Indigenous, Location – Gateway to International Markets
—————————————————————————————————————————————————————-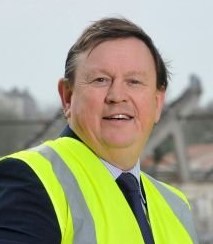 Seamus Coghlan, Head of Economic Development at Cork City Council
Seamus leads a team which is involved in collaborating with key stakeholders in Cork City region to develop the city as a competitive
location for FDI and for Start-up and Scaling Companies, to promote the city region through development of strategic messaging and
place brand and marketing of the region.
He has a strong background in urban regeneration and economic development based on his last 15 years in Cork City council after many years in engineering consultancy. He was responsible for developing the infrastructure strategy of the Cork Docklands estimated
at €800 million and had significant involvement in developing the business plan and the economic planning for the area and the city.
A key goal is the integration of the infrastructure with the planning and urban design policy along with the marketing of the product and brand.
Seamus headed up the Housing Capital Section for 3 years with a key objective delivering social housing via a number of procurement routes and commencement of delivering the City North West regeneration project of 650 housing units along with public realm and services upgrades and the socio-economic development of the area and also the maintenance of the 8500 public housing stock.
He now heads up the Economic Development unit in the Strategic Planning and Economic Development section with a focus on the key factors which make Cork a competitive city region and supporting the innovation and entrepreneurship ecosystem.
Seamus will present to us on: Cork and Project Ireland 2040:
An overview of the process and outcomes relating to economic, planning and infrastructure proposals for the Cork region.
—————————————————————————————————————————————————————-
Mr Ray O'Connor, Regional Manager South-West Region at IDA Ireland
As Regional Manager Ray is responsible for Marketing the South-West Region of Ireland, currently the home of over 200 High Tech FDI companies, to attract continued FDI with continued client relationship management, project delivery & issue resolution for existing and new client operations.
Ray works with local stakeholders to enhance the regions value proposition for international companies. Prior to joining the IDA Ray worked for an International IT transition firm now a Xerox company and held Marketing & Development Management roles in Eircom and Bord Failte.
Presentation Title: Strategy IDA and the Development of Cork over the next 20 yrs. supporting growth of FDI
Ray will address the following topics during his talk with us:
• Articulate some of the existing constraints which are currently impacting on FDI client operations
• Summarise key infrastructural components which are critical to the development of Cork over the next 20 years to support continued growth of FDI.
• The IDA operates to 5 year Strategies. Current Strategy period is 2015-2019. He will touch on where the IDA are making progress and where they are seeking challenges.
• Capture some trends across technology, cities, clusters and sectors which will impact on future opportunities for FDI.
The CEIA would like to thank Seamus & Ray for taking the time to talk with us and to our hosts DELL/EMC who generously agreed to host this event at their site.
Please let us know by return Email if you and/or others from your organisation can attend.