Cork Smart Gateway business webinar, Thurs May 20th @ 9am –"The importance of Cyber Security in SMEs"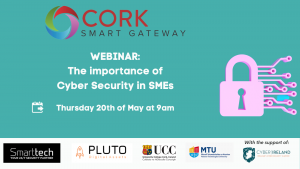 To register please click here.
SME's dependency on Information Technologies and Internet has opened the door to vulnerabilities to cybercrime. Any business that holds data – this includes email addresses, phone numbers, billing addresses etc. are at risk, as hackers can leverage this data to make money and not only harm the reputation of the business, but this can lead to the company's loss of critical assets and costs to fix the damage caused. The Cork Smart Gateway, with the support of Cyber Ireland, invites you to this webinar that will offer the opportunity to understand most of these cyber risks and security issues around data presented by a growing Cork's company: Smarttech247. Additionally, the webinar will showcase Pluto Digital, a company in the space of crypto currency and also end-user of Cyber Security services and how the implementation of these have contributed to the company's confidence and business continuity management. Moreover, we will have two Academic presentations: UCC will introduce the latest developments on Cyber Security research and its link to Industry and finally, we will address the global shortage of cybersecurity professionals and how the Cyber Skills project led by MTU is tackling this issue in collaboration with private sector partners.
Event Programme
09.00am – 10:00 am – Speakers
Raluca Saceanu, General Manager at Smarttech247
Barry Downes, Co-founder & Director of Pluto Digital
Prof. Utz Roedig, School of Computer Science & IT from UCC
Dr. Donna O'Shea – Chair of Cyber Security at MTU
10.00am – 10:30am Q&A Session
Interactive session between audience and speakers moderated by Dr. Eoin Byrne – Cyber Ireland Cluster Manager.
Sign up to the Cork Smart Gateway newsletters here.