Minister Michael McGrath TD, has graciously accepted an invitation from the CEIA to attend a Round-table briefing on February 3rd 2022 @ 9:00am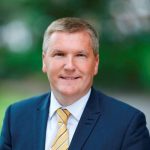 Michael McGrath TD
Minister for Public Expenditure and Reform
Attendee numbers are limited [approx. 20/25] and the format of the virtual gathering is a ZOOM Meeting. (not webinar). CEIA members only can attend. This meeting with the minister is an opportunity to participate in a two way communication on industry matters with the Government and Cork Industry ICT/Med Tech Sectors.
If you have a particular question please forward to info@ceia.ie no later than Jan 28th
All questions will be put through the chair, Sean Sheehan, CEIA Chairman.
This meeting requires Registration in advance:
https://ceia-ie.zoom.us/meeting/register/tJIpcOytrj8jGNByo5AXtfC2d971JphQ9Qb6
After registering, you will receive a confirmation email containing information about joining the meeting.
Please register ASAP, as places are limited
We are extremely grateful to the minister for taking the time from his busy schedule to attend this event.